I've recently fallen for Branch, which calls itself "a new way to talk to each other online" and "a marketplace for your ideas." It is in fact a site with a minimal interface, focused on the single activity of initiating conversation, inviting participants, and requesting to participate in others' initiated conversations.
What I like about Branch is its focus on commenting as content, without reverting to the forum model of Internet past. For better or worse, real names are used. Conversations are intelligent, but not necessarily academic. Thus far, disagreements are notably respectful: heatedness happens in the way it might at a dinner party. And, most interestingly to me, I'm actually doing it. Although I feel overwhelmed and drained by the prospect of writing even a short blog post on the sociological implications of wearable computing and wetware, I'll happily engage in twenty-minute bursts of lengthy online conversation on the topic. The participation of others is motivating and reassuring, like dotted lines on which to draw. Writing is no longer work.
In traditional online content platforms (centralized news sites, articles, blogs, social networks), commenting promises an immediate audience: the author and readers of the original, as well as previous commenters, especially those who disagree with you.
There's the opportunity to commandeer the audience of the original content, which is why we care about trolling so much. Flame wars stem from the urgency that comes with disagreement. The urge to prove someone wrong or correct a misconception drives content creation.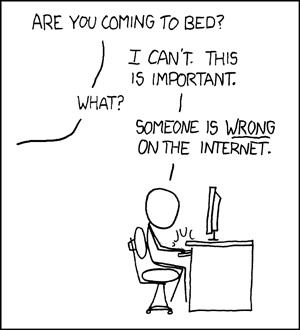 The urgency of commenting also keeps you from being precious or overly precise about your words, breaking down some of the boundaries to content creation. But unlike a stream of comments on a New York Times article, Branch encourages the organic formation of a community around a question, subject or issue. A Branch initiator invites individuals from their network to weigh in, and those who join can then add others. Clicking on a comment's author leads to their Twitter profile, making for seamless social networking.
Current featured Branches include 'What do you think defines "winning" a breakup?'; 'Google Earth Censorship in Morocco', 'What are some technological hurdles in curating the social web', and 'What are your favorite three places to see a movie?' While conversations about technology are inevitable, considering the site's users right now are largely early adopters, they're not the only conversations happening. Branch's founders, Josh Miller and Hursh Agrawal, enlisted the guidance of Obvious Corp.'s Evan Williams, Biz Stone and Jason Goldman (of Twitter and Blogger fame) to develop the product, which likely explains its simplicity.
Beautiful writing happens in comment boxes, prose as good as any that's validated as a blog post, article or print journalism. Branch showcases comments as content, and answers a need for how people want to engage online. I want to talk about this doesn't represent a desire to singlehandedly author a piece that will go out to a passive audience, or to post a link on your Facebook wall and wait for likes. It means I want to engage in a conversation about an issue that resonates with me, or peaks my curiosity. I want to gather opinions of others, but not infinite others. I want to collaborate and build connections around that collaboration. Branch aims to meet those needs.
- Kara Rota
@karalearota
about.me/kararota